6 quick soup recipe tips
---
So it's a cold day and you want a warming bowl of soup but you don't want to get out the blender for a creamy blended style soup. You want to be able to throw some veggies in a pot, cooking in only one pan and you want it to be YUM. Follow these quick soup recipe tips to make that happen.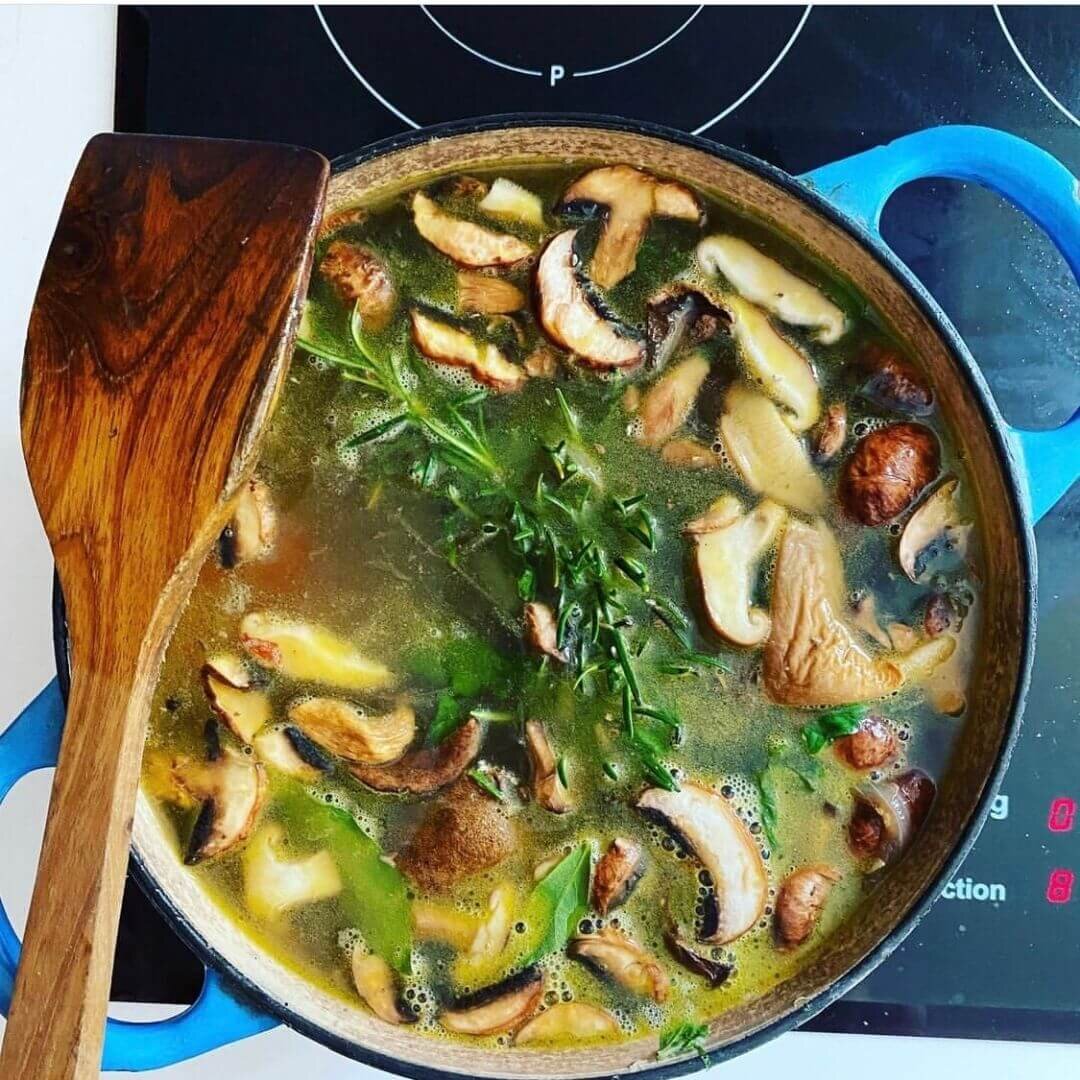 TIP 1: IT ALL BEGINS WITH AN ONION
Or carrot, fennel, celery, zucchini.
Create yourself a beautiful base to begin with by cooking chopped onion or some grated veggies in oil for a good 10 minutes with the lid on. Stir every now and then so they don't burn, but do let them get a bit of colour.
TIP 2: CHOP SMALL
Chopping your vegetables small imparts more flavour (more surface area) into your soup. This is a great thing. Obviously you'll have a lot of diced vegetables going on and it's going to produce a similar texture all round, but it works and it works well. Whenever I'm cooking, especially when I want something fast, perfectionism is placed to the side in honour of getting it done.
Actually: there's no place for perfectionism in my kitchen, it's the death of your kitchen mojo.
A bonus of chopping small means that your soup will cook faster too, which means you'll be enjoying a piping hot bowl of goodness so much faster.
TIP 3: COOK WITH BONE BROTH
Cook with bone broth. Bone broth already has the flavour town going. It means all you need are some veggies and interesting toppings to bring your meal to life.
We have limited freezer space at the moment and freezing broth is no longer an option. This doesn't stop me from making bone broth though. When I make a batch of broth, I'll store in 500mL – 1L jars and a few of the jars will contain enough fat to get a nice fat layer on top once chilled in the fridge.
This means the broth will last in the fridge for months, as long as the fat layer is solid (no breaks) it will stop air getting into the jar and spoiling the broth. The fat layer needs to be few cm's thick. I'll share more about this soon.
What to do if you don't have broth? Let's say you don't have broth in the fridge or freezer, consider stocking your pantry with a product like San Elk or Gevity Body Glue or a spice mix from Herbies. I always have these products on hand and rely on them so much (especially now with the freezer situation). It makes my life easier and I know I'm using quality products that are full of goodness.
TIP 4: ADD FLAVOUR BOOSTERS
This is all flavour flavour flavour. The best bit is, it's INSTANT FLAVOUR.
We don't need to spend time letting our soup bubble away to get the flavour going. It's from the jar to the pot, flavour in a flash.
Herbs are amazing, no description required. I'll add them to everything, even an Asian style soup.

Coconut cream (or milk) is great for adding a creamy-ness without using dairy, it also sweetens the dish and adds a nice dose of fat. I start with 2 tablespoons and add more as required.

Miso paste will add salty umami, start with a small amount (1 teaspoon) and adjust as needed. Miso paste is fermented too meaning your gut will benefit from a dose of good bacteria… never a bad thing.

Tamari will do the same thing as miso. Choose one of these 2 as they're both very powerful flavours and only a little bit is required.
TIP 5: POACH YOUR EGGS IN YOUR SOUP
When I'm making a quick soup, it usually means I don't have meat on hand (this is pretty common). It's also likely I won't have any pre-prepared beans, chickpeas or lentils ready to add – these take a while to cook too. I'll turn to an egg or 2, cook right in my soup in the last few minutes before serving.
Put your soup on a low simmer, crack your eggs in the pot and place the lid back on. Put a timer on for 3 minutes and check. My eggs will usually take between 3 – 5 minutes depending on the pot.
TIP 6: BUY QUALITY PRODUCE
Every time I go into a big supermarket I'm reminded of this. The produce just FEELS different.
It's usually picked weeks (sometimes years) before it arrives in your shopping basket, picked unripe and sprayed to ripen, cold stored and mass produced in soil that is lacking the nutrients it needs.
While I know that buying local produce isn't available to everyone for many different reasons. Starting by buying in season or picking a few ingredients to splurge on definitely makes the difference.
Your produce will last longer.
Your food will taste better.
Your body will reap the benefits of quality produce
---
Need help getting into the swing of meal planning?
Download my free guide – Get Your Sh* Together.