One Pan Pasta Bake
---
This one pan pasta bake has taken over our house as No.1 dish of the month/quarter/year. Not only is it foolproof. You only need one pan. Throw everything in and straight into the oven it goes. Plus there's always leftovers.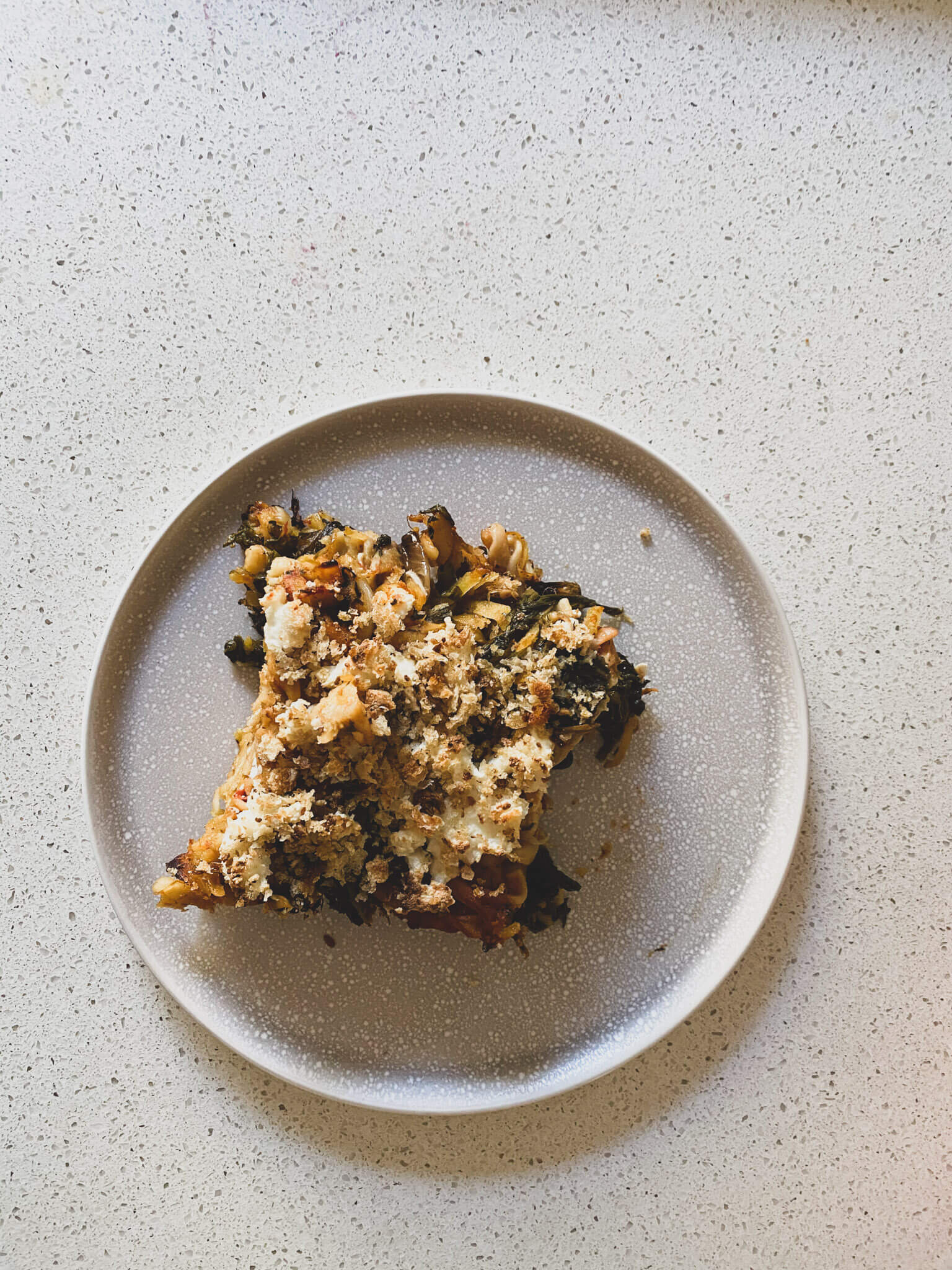 Me and one pan meals begin and end with a roast chicken. If I'm honest and I'm always going to be, I haven't made a lot of them.
I think this is because I usually have ingredients already prepared in the fridge. I explain all of this in my free ebook Get Your Sh*t Together. Having ingredients already prepped means dinner is well on the way before I've even begun and I'm simply adding to it, rather than starting from scratch.
Things are a little different these days. We've moved, we have a toddler and we're in lockdown.
If you're reading this in the future, remember the year 2020 and now currently 2021 when the world as we knew it blew up and we were forced to stay home and socially distance? Yeah, so that happened.
The amount of food pumping out of the kitchen is a lot and having Pete home for lunch each day has been a noticeable increase to my daily cooking repertoire and our grocery bill.
This has left me experimenting a lot more. Moving away from the old favourites we've clung to during BJ's first year. Although, I've recently implemented Thursday night as curry night. I feel good about it for now. Ask me again in 2 weeks.
This is all to say. I've been making some cracker meals and this is one of them.
I honestly believe constraints, limitations or circumstances is where creativity can come alive. You're forced to think in new ways, try new things and get outside what is the status quo.
All this from one extra mouth to feed for lunch? I know, I'm laughing at myself too, but I'm taking it. Here it is my one pan pasta bake.
Mix it up with these substitutions
Add tomatoes, reduce water to 2 cups. BJ can't handle tomatoes very well. It flares up his eczema, it was under control and we went tomato crazy. Maybe a little too soon. Please add tomatoes, do it for me.

Replace coconut cream with real dairy cream. We're fairly dairy free in our house, we eat sheep's and goats' products though. I will often sub dairy products for coconut cream, as long as you don't go overboard with the amount added I find it works so well.

Add meat. Shredded sausage or chopped chicken thigh. Scatter on top and press into dish (no need to mix through). As the meat cooks it will impart so much extra flavour into the pan.

Add cheese for a crispy topping. Layer with grated cheese for a crispy cheesy effect. I used breadcrumbs and it works so well. Cheese AND breadcrumbs may send you to heaven.
One Pan Pasta Bake
This one pan pasta bake is foolproof. You only need one pan. Throw everything in and straight into the oven it goes. Plus there's always leftovers.
Print
Pin
Rate
Ingredients
Olive oil

2

onions

4

garlic cloves

1

pack red lentil pasta

2-3

cups

diced veg

4

cups

hot water

or broth

1/2

tbsp

broth concentrate

don't add if using broth

3

tbsp

coconut cream

1

tbsp

dried herbs

Breadcrumbs
Instructions
Chop onions and cook in oil in an oven proof pan until clear, around 10 minutes.

Add garlic to pan and stir to combine. Cook for 1 minute.

Meanwhile, chop all veg into small chunks.

Throw remaining ingredients into the pan (besides breadcrumbs). Mix well, top with breadcrumbs.

Cover with foil and bake for 45 minutes. Remove foil and cook for another 15-20 or until water has been cooked out (a little liquid is fine).

This one pan pasta bake will work beautifully for leftovers the next day and while I haven't tried it I would definitely freeze and think it would hold up fine.